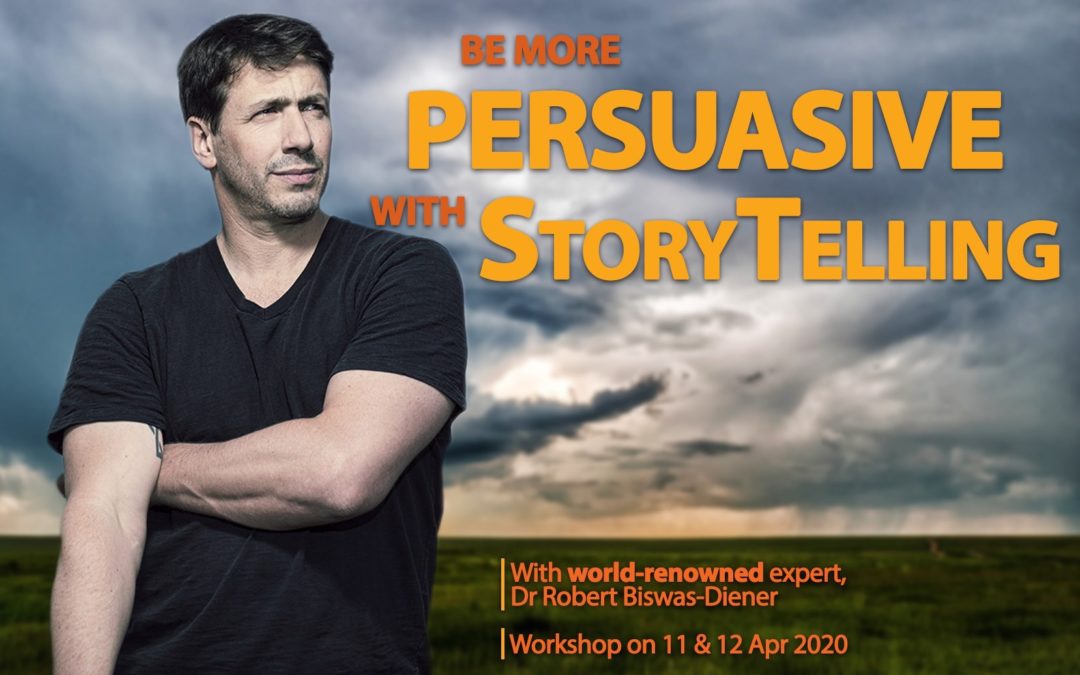 Register here.
Learn to be more persuasive with better storytelling!
Discover a new facet of Storytelling which is powered by the science of Positive Emotions and the perspectives of Positive Psychology. Learn how to communicate your messages more effectively, and inspire and influence others while doing so!
Why stories? Because we are all naturally captivated by stories. We see ourselves reflected in them. Stories are integral in human communication, and in conveying ideas and information.
________________________________________________________________________
In this two-day workshop, participants will learn the art of storytelling. The first day emphasises the technical elements of story and high-quality storytelling. Here, we will focus on understanding the purpose of story, elements of story, the use of theme to give power to story, and the use of improvisation. The second day shifts the focus from general storytelling techniques to an understanding of personal stories. Here, we will focus on truth, editing, and the unfolding of the narrative arc. The day will conclude with an opportunity for participants to share their own stories.
This workshop is highly experiential. Participants should be prepared to tell stories, engage in conversation, participate in improvisational activities, and take part in personal reflection. They will also have the opportunity to be entertained and inspired by a selection of carefully-curated stories.
Learning Objectives

At the conclusion of this workshop participants will be able to:
Identify the elements common to effective storytelling
List multiple purposes of story and understand how each can structure narrative
Articulate their own personal story, separating it into chapters and identifying major themes
Overview
Day One
An Introduction to Story: Its purpose and quality
Elements of Effective Storytelling
Improvisation
The Use of Theme
Day Two
Truth, Revision, and Narrative Intervention
Understanding Your Own Story
Participant Storytelling
Who can benefit from this training?

1. Coaches, managers, trainers, leaders
2. Counsellors, psychologists, therapists, and educators
3. Anyone else who wants to communicate their messages more effectively and inspire and influence others while doing so.
About the Presenter
Dr. Robert Biswas-Diener majored in storytelling in college. His entrance essay focused on the role stories play in teaching and entertainment. During his tenure in school he created an independent curriculum that included acting, script writing, stand-up comedy, and short story writing. Robert later went on to become a research psychologist and coach, and narrative has played a central role in his work. He collects stories in the form of research interviews, uses narrative as a basis of his work with clients, and is well known for telling stories in his trainings. From time to time Robert also writes for magazines and blogs. His topics range from rock climbing to performance science to journalism.